Hello folks. I'm replacing the RTF receiver in the E-Sky Belt-CPX with a Spektrum AR6210 to be used with my DX6i Transmitter. The CPX receiver had channel numbers (1-6 +B), whereas the AR6210 has channel labels/tags (THRO, AILE, ELEV, etc.). In cross-referencing the Belt-CPX manual, some are obvious (e.g., CH2-ELEV to ELEV, CH6-AIL to AILE, CH3-Brushless Speed Controller to THRO, B to BIND/DATA), but others I'm having trouble reconciling their respective mapping. For example on the E-Sky side: CH1-PIT, CH4-Gyro, CH5-Head Lock Gyro. And on the Spektrum AR6210 side: RUDD, GEAR, AUX-1. (Presumably, E-Sky CH1, 4, & 5 would map to RUDD, GEAR, AUX-1 but not sure of the precise mapping.)
I'm including a picture of the main receiver on the E-Sky Belt-CPX page that enumerates the channels for the RTF receiver. Any guidance you can give me would be greatly appreciated: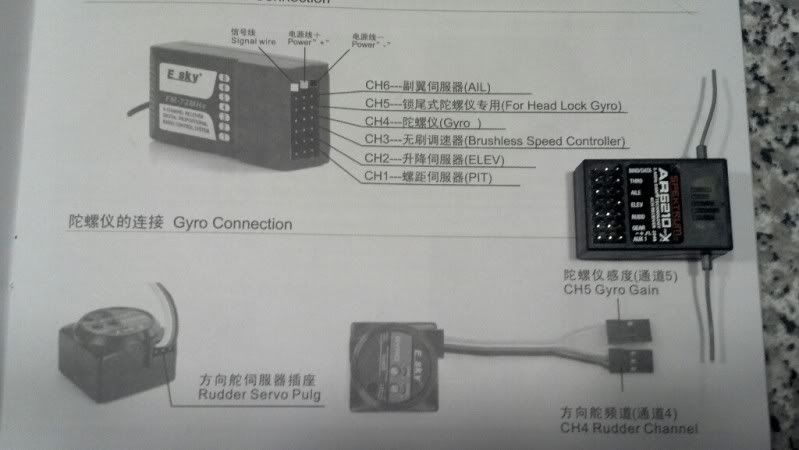 Also, this was my first heli. I wrecked it first flight, and realized I'm in way over my head. I have since been working with my two simulators, as well as a fixed pitch Blade 120SR, and collective pitch Blade mCPX mini. I have since repaired the damage to the Belt-CPX (head assembly, feather shaft, flybar) but I've got very little experience working on and fixing it, so any helpful tips in doing this Spektrum receiver modification would be greatly appreciated! Also, although I repaired the damage from my first crash, I haven't tuned the pitch, etc., so again, helpful advice falls on grateful ears. Thank you in advance for your time and assistance.